Spanish Vegan Explorer's Case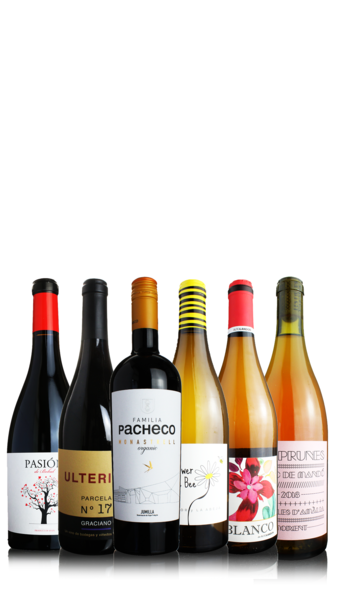 Single Price: £85.00
In Stock - 3 available
A journey of discovery through the vegan and organic wines of Spain. A 6 bottle Mixed Case containing 6 different Spanish wines with are both organic and vegan.
Aren't all wines vegan? The short answer is no. In reality though most wines are vegan friendly, however, the EU and US don't currently require wineries to list the fining agents that have been used on the label. The traditional fining agent is the part of the wine making process that can make wines unsuitable for vegans. This is because it usually contains egg whites or casein. These products have, however, started to be moved over to a lot of vegetable based products instead.
In order for a wine to be organic 95% of the ingredients used must come from organically produced plants or animals and the grapes must be grown without the use of artificial or synthetic chemicals such as pesticides or herbicides. It is also worth noting that not all organic wines are vegan friendly and not all vegan wines are organic. However, we have picked out three wines which are both.
First off we have Bodegas Altolandon 'Enblanco de Altolandon', a fantastic orange wine 'light' from near Valencia on Spain's East coast. Great as an aperitif with nuts and olives. Next up we have Pasion de Boba, a generously appealing, barrel fermented, organic Spanish red from Utiel-Requena west of Valencia. Big, but not heavy it's ideal to go with hard cheeses. Moving to Jumilla we have Pacheco Organic Monastrell, a full-bodies organic red from eastern Spain. A lot of wine for the money, this is the epitome of well made Monastrell. Next to Galicia with The flower and the bee treixadura, Ribeiro, a very drinkable, fruity and complex Spanish white. The penultimate wine in this case is Bodegas Verum 'Ulterior' Graciano Parcela No.17, a highly awarded, rich, organic Graciano from La Mancha. Quite versatile however we would suggest maybe avoiding more citric dishes. Finally we have Cellar del Roure 'Les Prunes' Blanc de Mando Rosado, a dry, fresh, minerally, biodynamic rosado from near Valencia. really refreshing and perfect with lunch in the hot sun.
So now, enjoy your explore of the Vegan and Organic Wines of Spain.